Box Best Practices and Guidelines
UICOM uses Box (cloud storage) to house all curricular materials. Because there are so many files associated with activities and people from all campuses who need access to these files, it is important to ensure that the structure of Box is easy for everyone to follow.
Box is used heavily and very consistently in Phase 1.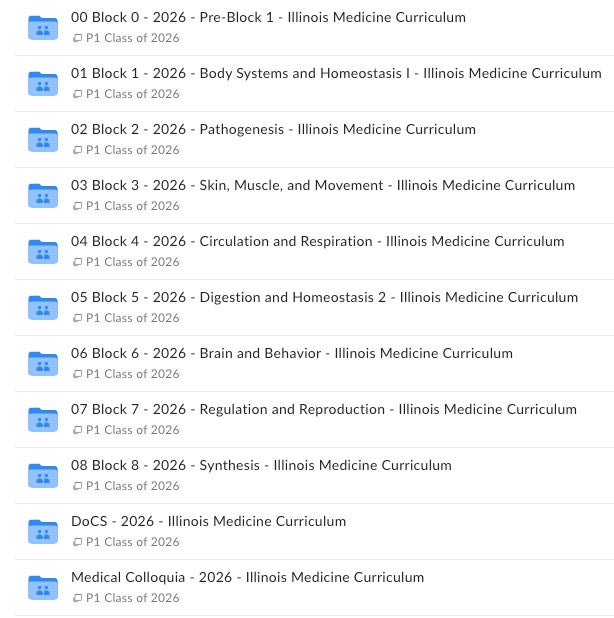 At the top-level organization in Box, there is a two-digit number that serves as a 'prefix' for each block and helps in sorting the list of block courses.
A level down from the top-level, there are usually at least two folders:
Working Documents (WD)
Materials Presented to Students (MPTS)
There may be additional information here such as links to this website and to the Google Sheet with a list of contacts for each block.
Within Working Documents and Materials Presented to Students, there are typically sub-folders for each week of instruction:
Block 1 – 2026 – Week 3 – [08.29.22 – 09.02.22]
Note that the same folder exists in the two main sub-folders (WD and MPTS).
Within these weekly sub-folders, there is another level of sub-folders for each formally named activity in that week. Again, the same folder exists in the structure for WD and MPTS.
Within the activity folders for a given week, there are sometimes additional folders if there are specific versions for a campus that is slightly different from another campus.
The Working Documents (WD) folder structure is mainly for faculty to put finishing touches on materials they wish to use for instruction. Either the project managers or the faculty copy completed materials to the Materials Presented to Students (MPTS) folder structure. The MPTS includes the content coordinators use to populate Blackboard with student-facing materials.
Even though there is a similar folder structure for Phase 2 courses (clerkships), Box is not used.