Ensuring Content is Accessible
Accessibility in higher education ensures that any student can access digital content and information regardless of ability or disability. Accessible course content plays a huge role in Universal Design for Learning (UDL), as it removes barriers for every student.
The term accessible means a person with a disability is afforded the opportunity to acquire the same information, engage in the same interactions, and enjoy the same services as a person without a disability in an equally effective and equally integrated manner, with substantially equivalent ease of use. An individual with a disability must be able to obtain the information as fully, equally, and independently as a person without a disability.
Sometimes people have apparent issues with ability and issues with ability that are not apparent to you. An apparent issue with ability might be something physical like a person who uses a wheelchair. An issue that is less apparent might be dyslexia, color blindness, etc.
Keep in mind: by paying attention to accessibility, you can also remove barriers for yourself and your colleagues.
"Under Section 504 of the Rehabilitation Act and titles II and III of the Americans with Disabilities Act, colleges and universities are obligated to provide students with disabilities equal and integrated access to higher education. Schools cannot deny students with disabilities equally effective opportunities to participate in the programs, benefits, and services they offer. This means that classrooms, cafeterias, libraries, residence halls, computer labs, and all other campus spaces, including online courses, must be accessible."
Modified from the National Federation for the Blind
Information for Accessibility Heading link
Review some of the concepts presented here such as how to ensure files we share with each other and students are accessible. Learn more about Universal Design for Learning (UDL) too.
Accessibility of Native Files (PPTX, DOCX, etc.)
Ensure your native files (PPTX, DOCX, XLSX, etc.) are accessible.
Many disabilities are invisible. This means you can't always determine just by looking at a person that they have dyslexia, perhaps they are color blind, or maybe they are legally blind. Students can contact the Disability Resource Center at UIC for guidance on how to approach the college with a specific request for accommodation for a disability.
Microsoft Office is ubiquitous and we are no exception. We provide students and each other with documents in various 'native' formats and often convert these materials to PDF. If the native material is not accessible, it is highly likely the PDF of the same material will also not be accessible.
The National Federation for the Blind has helpful resources on their website that provide guidance for making content accessible.
Higher Education Accessibility Online Resource: https://nfb.org/programs-services/center-excellence-nonvisual-access/higher-education-accessibility-online-resource and a specific guide for creating 'non-visually accessible' documents: https://nfb.org/blog/creating-nonvisually-accessible-documents.
It is important that we work to make our curricular content accessible to all. Some people have issues with color, for example.
Here is a helpful site that gives you an idea of how your color schemes accessible (or not) – this can be for PowerPoint slides, Word documents, etc. https://webaim.org/resources/contrastchecker/?fcolor=FF0202&bcolor=376093
The National Institutes of Health (NIH) website has some very useful (and official) information regarding color blindness issues: https://www.nei.nih.gov/learn-about-eye-health/eye-conditions-and-diseases/color-blindness and the main types of it.
Red – Green

Deuteranomaly is the most common type of red-green color blindness. It makes green look more red. This type is mild and doesn't usually get in the way of normal activities.
Protanomaly makes red look more green and less bright. This type is mild and usually doesn't get in the way of normal activities.
Protanopia and deuteranopia both make you unable to tell the difference between red and green at all.

Blue – Yellow
Complete Color Blindness aka monochromacy.
The Disability Resource Center (DRC) also has a checklist for digital instruction you may find useful: https://drc.uic.edu/faculty-resources-for-making-online-course-content-accessible/. You can learn more here about accessible font sizes, color schemes, adding descriptions and titles to graphics and other images, etc.
This goes for technologies also – ensure that whatever technologies you want to use are also ADA compliant! The UIC Department of Disability and Human Development in the College of Applied Health Sciences (AHS) has the Great Lakes ADA Center and is a great place to consult with to make sure you are using appropriate technologies.
Most staff and faculty have access to Adobe Acrobat which has an accessibility checker. If you are unsure how to do this, please ask your local coordinators or project managers for help.
It is also important to provide alt-text for images and tables. Alt-text serves multiple functions: screen readers announce it in place of images; if an image fails to load, the browser will present the alt text visually in place of the image; search engines use it in their assessment of the page's purpose and content. Some of the information in this module is specific to Articulate but can also be applied generally: https://articulate-heroes-authoring.s3.amazonaws.com/Workshops/2023/HowtoWriteAltText/index.html#/.
Universal Design for Learning (UDL)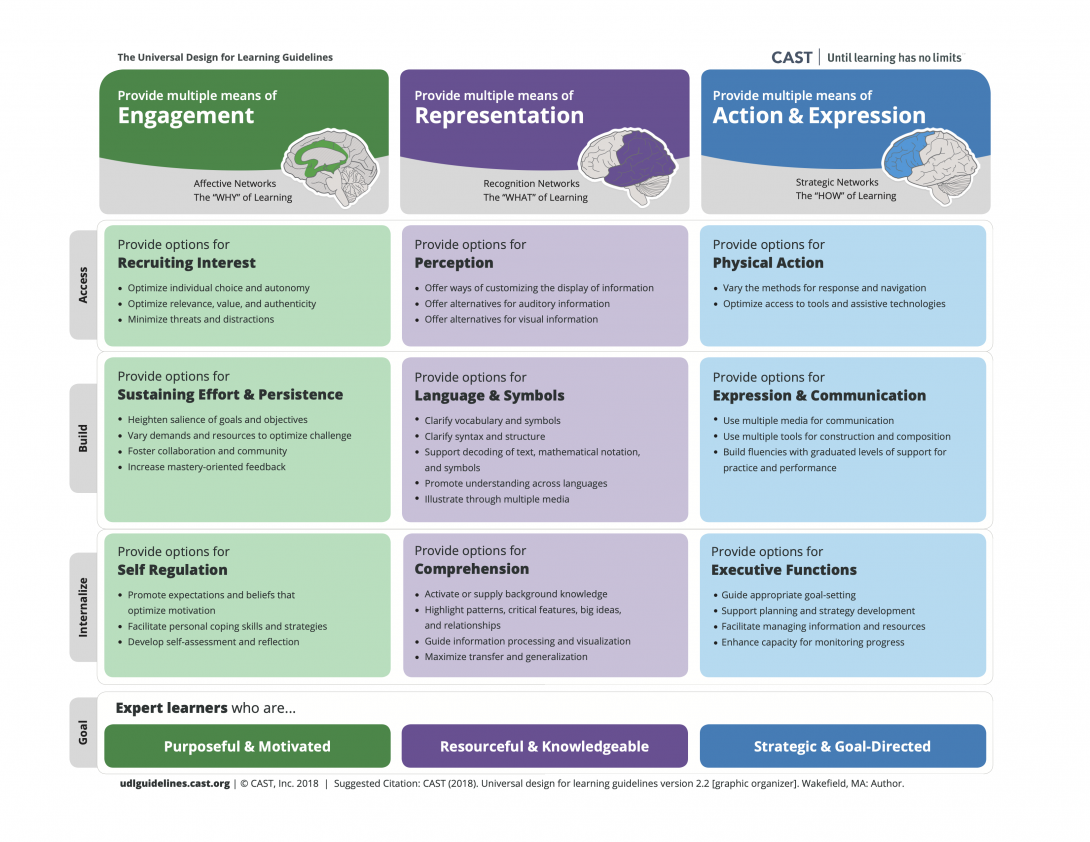 What is Universal Design for Learning (UDL)?
UDL is an important pedagogical practice and inclusive teaching strategy and has been gaining popularity as a result of shifting demographics in the U.S. higher education system. Our students are highly diverse, and, for many, English is not their first language. Every year, more and more students with both visible and non-visible disabilities are pursuing a health sciences education. All students come to our physical and virtual classrooms with varied learning preferences and strengths with respect to academic habits and familiarity with the university system. As educators, we have responsibilities to create an equitable and accessible learning experience for our diverse and talented student body. UDL is based on brain research indicating that everyone has different strengths in taking in information, expressing knowledge, and engaging in learning. Implementing UDL is an ongoing process that is ultimately about identifying and removing potential barriers to learning for all students in both the physical and virtual learning environment.
Cast.org has some guidelines that offer a set of concrete suggestions that can be applied to any discipline or domain to ensure that all learners can access and participate in meaningful, challenging learning opportunities.
Some examples include:
Multiple Means of Engagement: providing multiple ways for students and faculty to engage with each other and the content
Multiple Means of Representation: providing multiple means of representation (e.g. how content is represented visually, etc.)
Multiple Means of Action and Expression: providing multiple means of action and expression (e.g. different media tools for communication, etc.)
Check out this helpful website which details ten strategies to meet UDL guidelines.
In addition, check out the Quality Matters website for helpful information on UDL: https://qualitymatters.instructure.com/courses/559. (Note that you will have to create an account if you do not have one already. Go here to create your account: https://www.qmprogram.org/myqm/)
References
CAST (2018). Universal Design for Learning Guidelines version 2.2. Retrieved from http://udlguidelines.cast.org.
Ally File Transformer (via Blackboard)
Via Blackboard, we have access to a useful tool called Ally File Transformer.
Ally File Transformer (via Blackboard) Part 2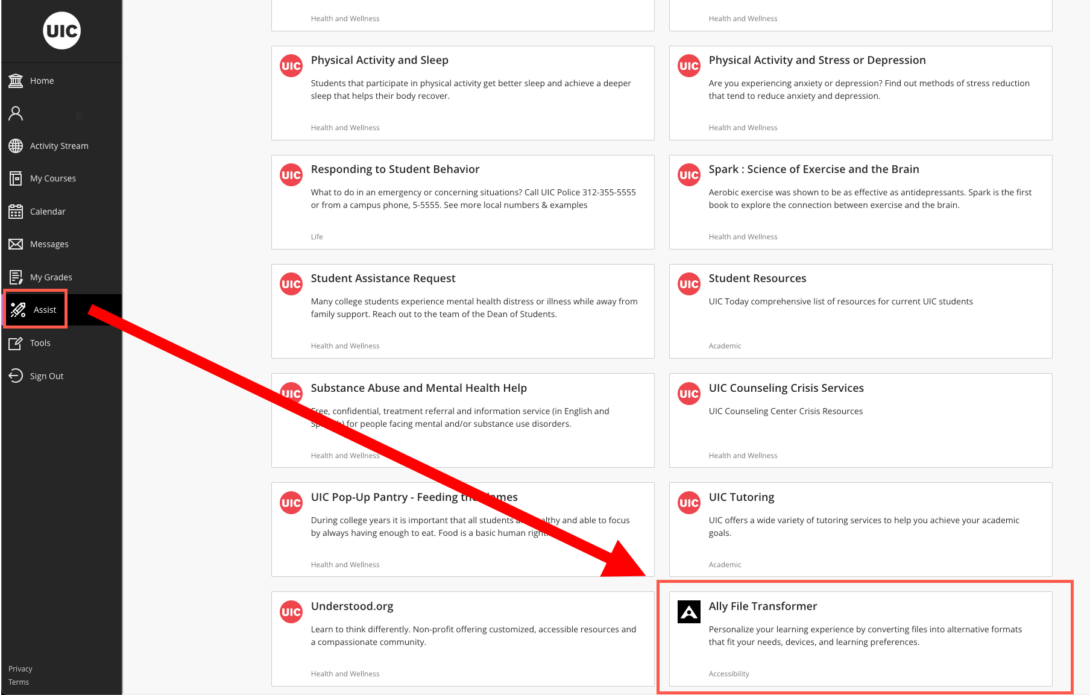 Ally File Transformer (via Blackboard) allows you to upload a file and download it in an alternative format. This way, you can personalize the learning experience to better fit users needs, devices, and learning preferences.
After uploading your file, pick an alternative format that best suits the current task or situation. It is possible to pick and mix formats too.
Note: sometimes things change! As of March 2023, this tool is located in Blackboard. Click on Assist on the left-side menu and locate the File Transformer tool.
Supported file types you can transform include: PDF, DOC, DOCX, PPT, PPTX, HTML.
The alternate formats you can transform your file include:
Immersive Reader: Aid reading comprehension and grammar skills. Internet required.
Beeline Reader: Enhanced version for faster and more focused on-screen reading.
PDF (with OCR enabled): Makes scanned documents searchable and more readable. Reduces file size.
Tagged PDF: Open DOC or PPT files without Microsoft ® Office. Improves use with assistive technology and helps reduce bandwith.
Audio: MP3 version for listening on personal devices, or when you want to take a break from reading.
ePub: For reading and annotating as an e-book on an iPad and other e-book readers.
Electronic Braille: BRF version for tactile reading on electronic braille displays.
HTML: Mobile-friendly responsive version for easier reading in browser and on mobile devices.
Read on to learn more about alternate formats: https://help.blackboard.com/Ally/Ally_for_LMS/Student/Alternative_Formats.